My college-bound daughter and I visited New Orleans last week (sunny, dry, breezy, 70's) for another look at Tulane University and to visit family. We stayed near campus, at the Hilton Hampton Inn
on St. Charles Street in a spacious top-floor room. The hotel offers free breakfast and afternoon tea; its common and pool areas are many and nicely furnished. The hotel's location provided instant access to the St. Charles streetcar and its wide median, where I could safely run. Too, we were walking distance to Magazine Street shops and restaurants.
Day One we revisited Tulane, a gorgeous campus humming with
students. It's an academically demanding but happy place. From there we walked the paths of beautiful Audubon Park, to Magazine Street, where we had a tasty and reasonably priced Italian lunch at Reginelli's Uptown. We noticed diners of all ages, from children to elders; it felt like a neighborhood place instead of a tourist spot. From there we walked the Garden District, marveling at block after block of magnificent 19th century mansions with gardens edged by 10 foot gardenias and honeysuckle. Such scents!
Later, we met my son and his girlfriend downtown for drinks and a
pimento cheese board at Willa Jean  and for dinner at Maypop (run, don't walk: easily one of the best meals of my recent life. Mopho chef Michael Gulotta's Thai/Cajun cuisine in an elegant space, with excellent service.)
A note on running. Past trips to New Orleans we've stayed in the French Quarter, which never shuts down. I'd been warned by more than one native to skip running
there. I brought my running shoes this time thinking I could run
Audobon Park. But I noticed, all day, runners on the St. Charles streetcar median. I got up early the next two days and ran there; it's a fun way to take in the avenue's grand homes and apartments.
Day Two we skipped the hotel breakfast and headed to Gracious Bakery and Cafe, a brightly lit breakfast and lunch spot on St. Charles that serves delicious egg sandwiches, pastries, speciality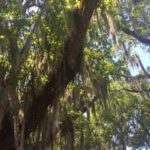 coffees. (We returned the next morning, too.) My son was working and we'd walked more than 10 miles the day before, so we lounged by the hotel pool. Midday we were the only ones there. What a treat to lie in dappled shade, reading. (My daughter did her homework.)
Restless, we walked to Magazine Street to shop and eat po' boys at Mahony's.  That night we returned to Magazine Street for cocktails at The Bouligny Tavern, a Mad Men-esque spot with great service, then onto dinner next door at Lilette, a French bistro we'd been to before. There the service was wackily off, but the fare was, as always, a foodie's delight. Truffle toast, duck gnocchi, drum over couscous, steak frites, brown butter cake.
Day Three we met my son at his MidCity apartment
(small, charming, sunny and a balcony to the street) then hopped the streetcar (highly recommend, $1.25 exact change per person) to City Park, where we walked the foot/bike path beside the lake and toured the Besthoff Sculpture Gardens, a favorite place.
For lunch we headed to the Warehouse District for hand-carved meat sandwiches at Butcher, a sister spot to Cochon, where my son works. Neither is to be missed for food that's not like everything else in New Orleans and for the brick-walled industrial but airy atmosphere.
From there we walked through the arts district and boarded the Charles St. streetcar for a priceless ride back to the hotel. A seller of flower garlands, tourists alone or in groups, bros, a girl handing out free croissants and baguettes, coiffed old ladies grateful for seats.
If you've never been to New Orleans, or haven't been in awhile, go!