Spring break led us to the American Southwest, where we walked beneath giant palms, savored mid-century architecture, lounged by a pool, hiked
the massive rocks of Joshua Tree National Park, and slept in an outdoor bed. Such beauty, natural and man made! Why hadn't we visited before?
Here's how the trip came about: our college-age daughter had two weeks off in March and wanted to visit her grandmother (my mom) in Scottsdale, Arizona. I'd spent a few weeks in Scottsdale in January helping my mom after knee surgery; I was happy to return but wanted to tack on an adventure.
We started in Palm Springs, California, where we rented a small home in a close-to-town neighborhood. I love architecture and had always wanted to see Palm Spring's collection of mid-century homes, commercial buildings, hotels and motels. And art: we spent a morning at the Palm Springs Art Museum, touring its wondrous permanent collection and an Andy Warhol retrospective. My husband and daughter indulged me, but wanted to experience the area's outdoors.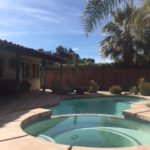 Can do! We drove to Palm Desert and hopped on the Hike to the Cross trail, an easy three-mile round-trip up to a lit cross. The next day we set off on a six-mile round-trip adventure on the Palm Canyon Trail to Stone Pools (moderately difficult). We never found the stone pools but we were thrilled to walk beneath giant palms, scramble up and down rock walls, and hike to plateaus that provided long, wide views of Mount San Jacinto and the Santa Rosa mountains. We were alone together for hours in this desert landscape, probably because we'd set out early.
From there we set up a base for ourselves in a stylish private lodge  just outside the gates of Joshua Tree National Park. Otherworldly is the only word
to describe the rock formations within the park. We hiked there two full days; our favorite was the seven-mile round-trip Willow Hole Trail, which had few people on it and had us walking through stone canyons until we reached a pond and its willows. The park is an understandably popular place 130 miles east of Los Angeles; if you're like us and want to be alone in nature, choose hikes that are more than one mile.
On to Scottsdale! We drove five hours through the mountains of Southern California, a place for which I have a newfound appreciation after years of thinking the whole place was traffic and smog. In Scottsdale we settled in at my mom's beautiful home and kept up the hiking, because Scottsdale — known for its resort hotels and golf courses — has the 35,000 acre McDowell Sonoran Preserve,
the largest urban landscape in the U.S. There we hiked Tom's Thumb Trail, a five-mile round-trip, steep but do-able.
With my vibrant 88 year old mom, we enjoyed less taxing pleasures in Scottsdale: a leisurely lunch outdoors, shopping glamorous Kierland Commons, a family meal under the stars. And I, a fish, tucked in a long lap swim at my mom's club after ten days as a happy goat, my eyes newly opened to our nation's beauty.
I'm glad we made that trip in March. Unexpectedly, my mom died April 7, following emergency surgery. She died peacefully at home, my sisters and me by her side.