A holiday weekend made for a get-out-of-the city escape to a winter wonderland in Quebec. In mid January, we spent four days at Chateau Montebello, a Fairmont resort that's a 90 minute drive from Montreal's international airport. Truth is, we "had to" go there: it was the annual meeting of Club Lac Pythonga, where we spend summers. 
What a place to land! (Thank you, Marie Hélène Sevigney and Becca Baughman.) Chateau Montebello, built in 1930, is the largest log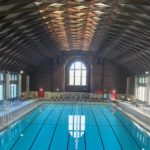 structure in the world. Every time I walked into its lobby, I gasped. It's tall and spacious, warm and inviting. A perfect place for families and friends to gather and talk on their way to or from an adventure. Let me count them: swimming, spa-ing, squash, hiking, snow-shoeing, skating, sledding, cross-country skiing, dog sledding. Equipment — even outerwear — was lent, free of charge.
I can't remember the last time I went to resort and didn't want to leave.
On to books. I had four days to read at Montebello. Nothing to recommend.
Back at home, I was happy to receive a story collection by Alice Adams. I'm not a fan of short fiction because — I want more! Not so with Alice Adams. The blurb on the front, from Joyce Caro Oates, captures the experience: each story is "like a watercolor perfectly executed." Adams' stories feel complete at 20 or so pages;
they're unique, and memorable.
At the same time, I was devouring the first half of a doorstopper, The Manor and The Estate, by Isaac Bashevis Singer. Why is this not a mini series? It's a delicious story, set in Poland during the latter half of the 19th century. There, a Count returns from Siberia, exiled for his part in a failed uprising against Russia. His son Lucian, also exiled, flees to
Paris, but not before he lures a Jewish girl to go with him. (Squalor, illness, imprisonment follow.) That girl is one of four daughters of Calman Jacoby, a devout Jew who has taken possession of the Count's manor and land. I loved this saga because it detailed the lives of European Jews (and Gentiles) at a turning point in history. Characters question the strictures of religion, marriage, manners, domesticity. I'm looking forward to reading part two, The Estate. 
In the meantime, I picked up Say Nothing, a True Story of Murder and Memory in Northern Ireland, by Patrick Radden Keefe. I'm only a few pages in. It's very good. 
Happy New Year, happy trails, happy reading.